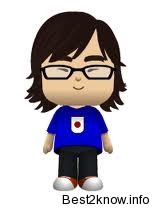 An avatar is a representation of who you are online. Sites like Twitter and Facebook use avatars extensively. Of course, you don't always want your avatar to be a photo of yourself. Sometimes, you would like a little anonymity. So why not create your own avatar? It will incorporate your style and panache without plastering your face all over the Tittersphere.

First of all, think of something; whatever you like. It may be a picture of your cat, flowers, or just your favorite color. Whatever it is, make sure it's simple. Avatars are typically small, around 100×100 pixels. They are also square, so try to remember your background has to fit within those parameters. Once you have your background, you are ready to move on to the next phase.

Example background image:
Part two, the caption. The wonderful thing about making your own avatar is that you can add your own subtitles to it. Maybe you have a picture of your favorite actor. You can put the word 'yum' under it and everyone will be well aware of your proclivities. Or maybe your cat is sleeping across the TV with a carrot in its paws and you put 'vegging out'. Whatever you put (or don't put), make sure it is short and to the point. Only big, bold font will be readable once it is shrunk to avatar size.

Part three, the actual work. For beginners, I recommend a free, simple to use program called Picnik. This program allows you to load your background photo and mess with it to your heart's desire. The choices are endless, but I suggest cropping your photo first.
Cropping is like chopping off the excess. You want your photo to end up relatively square, so keep that in mind. Most photos are wider than they are tall, so focus on keeping the height and trimming the width. DO NOT resize your photo yet! It is a lot easier to edit a full size photo rather than an avatar sized one. You'll get a chance to shrink it later. Plus, the bigger your photo is when editing, the nicer it will look when it is shrunk.
Example cropped image:

Once you've cut it down, work on framing. A simple black frame works best, and shows up well on almost all sites. It will look thick, but when you shrink the photo it will be perfect. You can change the look of the photo by choosing effects. Things like sepia tones, black and white, and highlights work well with already dull photos. You can even select areas to keep color when the rest changes. Play around with it and see what you can do.
Example framed and highlighted image:
After you've got your photo perfect, add text. There are many fonts to choose from, but Impact usually shows up the best and takes up the least amount of space. Make sure the font color shows up clearly against the background. Black or white is best. Make the font as large as you can. Text is notoriously hard to read when it is that small.
Example captioned image:

When you are happy with the way it looks, save it. Below the name is the option of size. Resize it to approximately 100×100 for the average avatar. Make sure to keep a full sized copy in case you need to change it up later.
Example completed avatar:
You're done! Try it out. Add it to your Twitter or Facebook profile and see what people say. Remember that you can change back at any time, so don't be afraid to take a chance. With practice, you'll be able to create your perfect avatar, and maybe even some for your friends.
Original photo courtesy of MorgueFile
Author Bio
This Guest post is by Christine Kane from internet providers, she is a graduate of Communication and Journalism. She enjoys writing about a wide-variety of subjects for different blogs. She can be reached via email at: Christi.Kane00@gmail.com.
Update : Link to the Picnik service has been removed, As the service has been discontinued.