Ever since the beginning of "web 2.0?, designers started creating logos or images with reflections that look pretty cool. Most of the time these images are done by professional in-house web designers which most of us bloggers don't have the skill or access to. Fortunately there are two sites I came across that can add this effect to any image you'd like to apply it to.

The first one is called Wet Floor Maker which has several options such as angle, camera height, brightness, reflectivity, and more. Just upload your image and adjust the options to your liking and voila….you've got a cool new wet floor effect image. Here's the end result of one test image I created: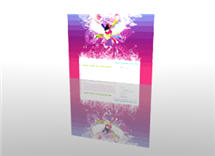 The second site is called Image Reflection Generator and it doesn't have nearly as many options as Wet Floor Maker does. The final image did look a bit more professional, however but you have no control over the angle of the reflection which I don't like. Here's the same image but after converting it with Image Reflection Generator:
These are convenient and quick ways to create images with a wet floor effect without any photo editing experience. The one thing I don't like about both of these sites is you can't preview the image before you click the "create image" button. Several times the end result image wasn't exactly what I wanted so I had to go back and start over again. Kind of a pain but since the service is free, I can live with it. Try both out and let me know which you like better!