Many times we see how Poor photographic condition make a Good Photo turn bad or even worse.So…
What we have here is 11 best Free Picture/photo editors, which you can use for editing Your holiday or Party pics like a professional… Just try these Out !!

Not so many years ago, we had to excuse ourselves for the red eyes, vampire style, everybody had in their photos. Do you remember how we had to wait in front of a great cathedral, in order to take a photo without embarrassing tourist heads at the bottom? Photo editors were then expensive, so not everybody afforded one. The situation changed lately, with more and more open source programs and other freeware things made available online. I'm presenting you a few choices of free photo editors which can help you improve your pictures and make them look more stylish:
1. GIMP (GNU Image Manipulation Program)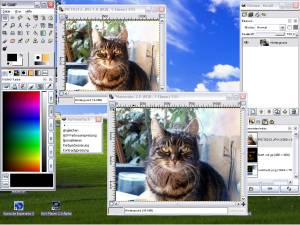 GIMP is a freely distributed program for such tasks as photo retouching, image composition and image authoring. It works on many operating systems, in many languages, and their official site contains a lot of tutorials and a list of books.
What you can do with GIMP (these are only a few of its capabilities):
2. PhotoPlus 6

Offered by FreeSerifSoftware, PhotoPlus 6 is an easy to use photo editor, with a nice interface. It has a number of built in functions which will make it very convenient for people who don't know anything about photography editing:
Creative tools for enhancing your images: paintbrush, airbrush, clone, smudge and erase, plus adjustable brush settings (size, shape, softness and fade).
Layer Effects: by using the layer manager, you'll make changes to your images without affecting the originals.
Digital Darkroom: this function allows you to adjust brightness, contrast, sharpness, color hue, saturation and will also help you remove the annoying red eyes.
The Deform tool: rotate, resize, skew, reshape and add perspective to any selection or layer.
Text: add your editable, deformable text to images and further enhance it with drop shadows and bevel effects (if you are a fan of these effects).
Animation: you can create animated GIFs
Web Images: you can divide images into individual sections that can be clicked on to link to other web pages and websites, just like text hyperlinks. PhotoPlus 6 creates also the HTML code you need to insert to have your web page working.
Export Optimizer: you can simultaneously view up to four previews that display the relationship between image file size and quality, making it easy to decide how to save and export images for every purpose.
Quick Shapes: big range of speech bubbles, starbursts and spirals, all customizable.
Using Photoshop compatible filters, VicMan's Photo Editor is a good choice if you think that at a later stage, you'll want to go into professional details and tricks. The software offers a wide range of filters and effects, handy tools for color selection and management, and even the possibility to create caricatures, or to refine your images using gamma correction tools.
Amongst the effects you can apply to an image (or to a part of it at your choice) there are: Twirl, Seawave, Fingerprints, Fish Eye, or built-in distortions like skew, slant, twist, slice or dice.
4. Adobe Photoshop Album Starter Edition 3.2
Both photo organizer and editor, Adobe Photoshop Album Starter Edition offers all the functions required for fixing the flaws of your photos. Using its organizer features, you can find any photo in a snap with automatic organization that lets you view all of your digital photos in one place using a familiar calendar view. However, this would not be my choice of software, because of its aggresivity: I did not pay too much attention at installation, and I have activated a feature which attempts to collect and organize picture files from any CD of USB key I insert into my computer. Not being able to spot at once how to deactivate this thing, I uninstalled the whole application, because I want to be the one who decides when and where and how to import pictures into my computer (which is quite old and has limited storage capacities).
5. Picasa
Free photo editor and organizer from Google, Picasa offers pretty much the same function as other free photo editors do, plus the capability to share your photos with others through email, prints and on the web. Picasa's Basic Fixes are buttons which allow you to crop, remove red eye, or fix the contrast and colour. 12 new visual effects are available, plus, you can fine-tune your photos with Picasa's EXIF display. This window shows you all the camera data that is stored in a picture's original file – such as camera model, date the photo was taken, even if a flash was used. The EXIF display also has a RGB histogram, a real-time graph that shows the intensity of colours in your picture and how they change when you make edits in Picasa.
6. Paint.net
Open source and free, Paint.net has all features of a good photo editor. Many special effects are included, from blurring, sharpening, red-eye removal, distortion, to noise and embossing are. The 3D Rotate/Zoom effect makes it very easy to add perspective and tilting. Paint.NET includes a curve tool for drawing splines or Bezier curves, a Gradient tool, the popular Magic Wand for selecting regions of similar color and the Clone Stamp, which allows you to duplicate areas of an image at your choice (this is how you can get rid of electricity wires on your beautiful skies, for example).
7. MyImager.com
The difference between this photo editor and the previously presented ones is that myImager is an online tool. This means you don't have to download and install anything on your computer, in order to get your photos fixed. It has a lot of predefined effects which you can apply to your pictures, but I found it rather uncomfortable, because when I did my first wrong move, it took me some time to figure out how to undo it (it's simple after you see where the button is). Besides, all those moving advertising banners managed to distract me. However, I see myImager.com suitable for situations in which I cannot use my own computer, such as from hotel lobbys or from internet cafes. If you want to blog about yout travels while you are taking them, this is a good choice to get your photos adjusted before you publish them on your blog. The maximum size of the photo files is 500kB.
8. Auto-Photo-Editor
This is a shareware software for your batch photo editing converter. It allows you to convert multiple photo/image files at the click of a button. You can batch resize, rotate, stamp text on your images and convert format to others. You can set up your computer to run the batch file on a schedule and leave the routine image processing tasks to Auto Photo Editor. This is very useful for people who like to send their photos by email and see themselves in the situation to work hours to reduce the size of those photos one by one.
Auto Phto Editor works only with Windows 98/ME/2K/2K3/XP/Vista. If after the trial period you decide to buy it, the basic version costs $49.59, which the PRO version costs $69.95.
9. IrfanView
IrfanView is a very fast, small, and compact freeware (for non-commercial use) graphic viewer for Windows 9x/ME/NT/2000/XP/2003/Vista. Some of its features are:
Slideshow (save slideshow as EXE/SCR or burn it to CD)
Show EXIF/IPTC/Comment text in Slideshow/Fullscreen etc.
Support for Adobe Photoshop Filters
Fast directory view (moving through directory)
Batch conversion (with image processing)
Multipage TIF editing
File search
Email option
Multimedia player
Print option
Change color depth
Scan (batch scan) support
Photo editing and effects (sharpen, blur, Adobe 8BF, Filter Factory, Filters Unlimited, etc.)
Capturing
Extract icons from EXE/DLL/ICLs
Lossless JPG rotation
Many hotkeys
Many command line options
Many PlugIns
Only one EXE-File, no DLLs, no Shareware messages like "I Agree" or "Evaluation expired"
No registry changes without user action/permission
10. PhotoFiltre Studio
PhotoFiltre Studio is an image retouching program which allows you to do simple or advanced adjustments to an image and apply a vast range of filters on it. The toolbar, giving you access to the standard filters with just a few clicks, makes PhotoFiltre Studio quite intuitive and easy to use. PhotoFiltre Studio also has layer manager (with Alpha channel), advanced brushes, nozzles (or tubes), red eye corrector, batch module and lot of other tools.
11. Cellsea
This is an online photo editor which lets you edit pictures with the file size up to 10MB. Very easy to use, providing a tabs-based menu, Cellsea has all it takes to fix your photos and share them with your friends (the email send and the Flickr upload built-in options save you precious time).
[eminimall]
Whatever you choose, if you think that later on you could advance to professional photo editing, it would be better to buy your professional photo editing software from the very beginning. Do you know why? Because once you get used to the menus of a particular software, you'll find it very difficult to accomodate with the new ones. This happened to me when I switched from Macromedia Fireworks to Photoshop: although basic commands are the same, the differences are enough to drive me crazy. I wish I started directly with Photoshop (if you can't afford it, you could consider Photoshop Elements, which costs less than $200).
What photo editor do you use and how did you choose it?