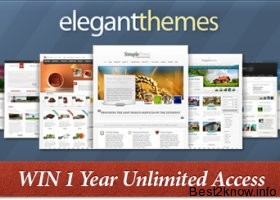 Since Best 2 Know was started their were hardly any give away or contest, but this time I have bought a contest or you can say give away for all of you this time I gonna give you all the ElegantThemes or you can say membership for 1 year. in this membership you can download all of the themes released by ElegantThemes if they are new or old each and every this is just like a jackpot. they currently have 61 themes and many more coming now and all you gonna pay for this is 0

you can checkout the themes that ElegantThemes has made they are just fabulous you can check their themes in their gallery were all 61 themes are available for preview.
All the themes by ElegantThemes have great features and a unique control panel through which you can control your theme and are SEO Optimized some of the normal features included in their all themes is :
General Settings
Navigation Management
Layout Settings
Advertisement Management
Element Colorization
Search Engine Optimization
Integration Tab
Shortcodes
Page Templates
and many more there is huge list of features that you can see on their site if you want you can refer to it. Now lets come to the main point of the give away, so I m gonna give this for the winner and the winners will be selected using Random.org
How to join this contest giveaways?
To help those who are looking for premium WordPress themes to build up your blogs or websites, Best 2 Know has just collaborated to conduct this contest and hope that you will get your dream themes with full licenses for 1 year.
The licenses will be given away to the 1 lucky winners of this contest. 1 lucky winner will get all the premium themes. Your account will be created with your information and you will enjoy it for 1 year FREE with full support as paid members.
Contest Rules:
Just write a post (you can mention about the contest too) on your blog about this contest and link to this contest (only English blogs are accepted)
Retweet this post
Follow me on Twiter @riteshsanap
Share this post on FaceBook and like it
Become Best 2 Know fan on FaceBook
Subscribe to Best 2 Know by email

Why I need to create these rules? Do these rules prevent you all from participating into the contest? No, the rules are set to just make sure that the winners are those who are really in need of these premium themes and I don't like to give these premium themes to those who will not use it. Why I only accept English blogs for this contest? Just simply because I can only read English blogs.
How to select the winners?
For those who meet all requirements, you will be selected to join lucky draw session by random.org and the results will be announced on July 6, 2011. the day when Best 2 Know was born and the same day when i was born in 1994 :P
Good Luck for you all !