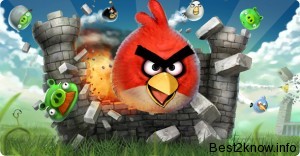 Angry Birds is the one of the most popular game played online nowadays. the game is a puzzle video game in which players use a slingshot to launch birds at pigs stationed on or within various structures, with the intent of destroying all the pigs on the playfield. As players advance through the game, new birds appear, some with special abilities that can be activated by the player.
How to get Angry Birds for Free ?
Usually Angry Birds for PC cost around 5$ and thats what we don't want pay for the fun of that game well its enough good game or you can say it is worth more then 5 bucks. but we are going to get Online version that is free of cost and also great i can't stop playing the game when i started its too great to play with you cannot control yourself from playing. Now lets come back to the main point for getting your free Angry Birds game you need Google chrome browser for it.
Start the Google Chrome Browser
Now you can see a link to WebStores
Now you can see in the featured area you can See Angry Birds click on it
If you are unable to find then click here and then click on Install
Now you can see Angry Birds icon when ever you open a new tab
Screenshots of Angry Birds :
Now enjoy the game you can also play it offline in chrome once installed, if you have not have Google Chrome browser then also you can enjoy the game by visiting here but your game will not be saved for later playing. the last word enjoy playing the fantastic game and if you like it buy it
Also see : 4 Games You Can Play while Working