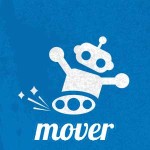 I wanted to Copy files from Google Drive to Dropbox without downloading them to my PC and again uploading them to Dropbox, Well it happens to many of us that we want to transfer data from one Account to other without wasting time and for various reasons.
So I stumbled upon a solution while searching Google for Copying Files from one Cloud Service to Another and that is Mover.io. it Helps you transfer data from One cloud service to Another, without you requiring to download and upload data directly from server to server.
Mover.io Supports almost all of the major Cloud Services and also has few better option like transferring to FTP, SFTP or to your Web host(Example : Dreamhost) and various other, which is basically awesome.
Mover.io lets you transfer around 10GB of data for free of charge and after that they charge you 1$/GB. Which is more than enough for most of us, I guess. you just need to provide your email ID to create an Account and your Account is ready no big registration form and etc. The site itself is very simple to use and direct to point, you just login and select from which service to where do you want transfer the data.
From the above image you can see I selected, I want to transfer my data from Google Drive to Box.net and I just had to press Transfer button and after 5 minutes all my data is successfully transferred from one Cloud Service to Another Service, well the time usually depends on Server load and your Data size but it mostly takes place within few minutes and you can even view your transfer status in Activity, or you can even Schedule for a later time and it will take place at that time.
I hope you like Mover, because I sure did like it for its ease of use and Speedy transfer, that saved me a whole lot of time. share your experiences with Mover with us.