Today i m releasing Asino footer for blogger or you can say Thesis style footer for blogger. Actually its not Thesis style its called Asino. Well no problem at last we can now have for blogger also, thanks to ramandeep who inspired me or you can say gave idea to make it for blogger. At last its here for Blogger.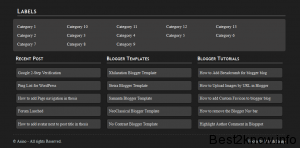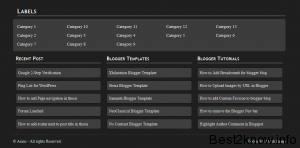 Thesis style footer is has its specialty in the way it has the category arrangement and the 3 column footer that looks very good and fantastic and has is been used by most of the thesis theme users.
Installing Thesis style footer
Installing Thesis style footer is easy and you also do not need any special requirements for installing it or any knowledge of coding.
Navigate through Design >> Edit HTML
Find for

]]>

and add the below code above it :

#asino-wrapper{background:#1F1F1F;padding-top:20px;color:#DBEDEE}
#footer-column-container{clear:both;width:960px;margin:0 auto;font-size:14px}
.footer-column{padding:10px;width:300px;float:left;text-align:left}
.asino-cat{background:#3D3C3C;-moz-border-radius:5px;border-radius:5px;overflow:hidden;padding:0px 0px 7px 0px;float:left}
#asino-wrapper h2{border-bottom:3px double #666666;color:#FFFFFF;font-size:18px;font-variant:small-caps;font-weight:700;letter-spacing:0;line-height:30px;margin:0 0 15px;text-transform:none}
#asino h2{font-size:22px;font-variant:small-caps;font-weight:700;letter-spacing:1px;margin:10px 0 10px 15px;text-align:left;text-transform:none}
.asino-cat ul li{display:inline;list-style:none}
.asino-cat li{float:left;line-height:22px;margin:0 10px 5px 0;width:165px}
.asino-cat li a{border-bottom:medium none;color:#FFFFFF;display:block;font-size:15px;padding:2px 5px;text-decoration:none;text-align:left}
.asino-cat a:hover{background:none repeat scroll 0 0 #F2F2F2;color:#333333;text-decoration:none}
.footer-column ul{list-style:none;margin:0;padding:0}
.footer-column li{background:none repeat scroll 0 0 #3F3F3F;border:1px solid #111111;border-radius:5px 5px 5px 5px;color:#000000;line-height:1.4em;overflow:hidden;padding:0.5em;margin-bottom:0.692em}
.footer-column li:hover{background:none repeat scroll 0 0 #4F4F4F;border:1px solid #7A7A7A;border-radius:5px 5px 5px 5px;color:#000000;line-height:1.4em;overflow:hidden;padding:0.5em}
.footer-column ul li a{color:#F2F2F2 !important}
.footer-column ul li a:hover{color:#F2F2F2 !important}
#copyright a{color:#FFF}
.copyright{text-align:left;border-top:1px dashed #4D4D4D;padding:1em 0 1em 0em}

Now go to bottom and find for :