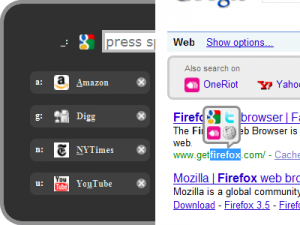 Hello to all of you today I m going to tell you about a great addon of Firefox with use of it you can surf the Internet Quickly and with great features. it is the one of the great Addon yet made for firefox and is used widely on the internet because it makes the work easy using it.
what does the Fastestfox says
Save time by speeding up repetitive tasks. Get faster, parallelized downloads, see definitions, auto-load the next page, improve searching, and more. FastestFox will dramatically enhance your productivity!
According to wikipedia
FastestFox (previously called SmarterFox) is a free, open source Firefox extension which aims to make Wikipedia more convenient to use from the browser. It adds a "related articles" box to the left side of Wikipedia and integrates Wikipedia's search features into Firefox. It is aimed at Wikipedia power users.As of October 2010, FastestFox has been downloaded over 7,600,000 times
What are its features ?
Automatically loads the next page
Helps users to search the word or phrase directly on google in single click
Improves Search
Search Directly on Wikipedia
Gives The Meaning of a word or a phrase quickly from Wikipedia
Gives option to search on other search engines also
Parallel Downloads
As Per Testing from me i have found that this is very useful addon.
Get this Addon from Here : FastestFox
This Addon is also available for Google Chrome
Get FastestChrome from Here : FastestChrome