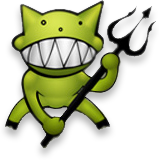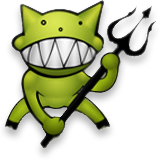 Hello everyone, as most of you might know Demonoid is a online torrent tracker which was created by anonymous Serbian known only by the pseudonym "Deimos" and "Zajson". The tracker used to index torrents uploaded by users and the site was the 2nd largest torrent tracker after The Pirate Bay. But was the largest one when pirate bay was temporarily taken down, after that pirate bay came back online. But a tragedy befalls us all.

The Demonoid Tracker was taken offline in the 2012 and was offline for over 2 years, and there was no news regarding when it will be back online, but in late 2013 on the original domain there was a notice that the Demonoid will be back and then afterwards in 2014, Demonoid started re-indexing and servicing its old torrents, that were there before it went offline.
But now it is time to rejoice because Demonoid Torrent tracker is back online, and fully functioning. Just a few minutes ago I received an email stating that Demonoid is back.
The site is currently cloud based or you can say hosted and there is a notice on the site regarding that there might be some glitches.
There is also one more good news earlier (before it went offline in 2012) the registrations were closed, and the registration was based on Invite Only, where only people invited by existing members can register, because of that we did a Distribution of Free Demonoid Invitation code, and the amount of feedback was overwhelming and I was unable to fulfill everyone's request, for which even now I sometimes feel sad.
But the good news is that registration on Demonoid are currently open and any can one register even without an Invitation code, so head out there right now and register at Demonoid.ph
Update – 17/12/2014 : Registrations to Demonoid has once again been closed and now are again based on Invitation basis.