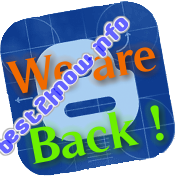 I m feeling really nice about writing this that we are back ! its been a month that i was fighting to get back our best2know.info and at last i succeed. the journey to this end was very bad and i wish no one in the world should go from that pace. because i was losing hope and was trying to forget but my will power don't let me did it :D

The services i started hating after that destructive hacking attack are :
Godaddy
Google
LimeDomains
I would suggest now not to use them :P because they didn't help me to get it
The person who i would like to thank are :
they really helped me , Anshul Helped me to collect some proof against that hacker and others also did a lot work :D
Now the main Point : We are Back !
We are not only back with the blog but now we are back with changes that we are using wordpress instead of blogger.
Why to wordpress and Left blogger ?
After that hacking attack google didn't gave me back my site . i contacted them several times i contacted their employee's but no reply :( so we came to wordpress because its vast and more manageable but still i will help you with blogger :D
Whats New ?
New Professional looks with self hosted wordpress . Use of Adsense Revenue sharing Plugin so that you can also earn if you write :D well managed site with perfect categorization that helps you to go and surf the site more easily with power and find the perfect thing what you want :D
Me still Trying to get my Old style so do reply and say am I really Back ? and learning the habit to post using WordPress Post Editor :D