Isn't it really hard To find the Person or a Community using the orkut Search engine…
Well Now it has Changed. It comes with a cool Search Filter.

After you enter Your keywords in the Search Box, this search filter shows up along with the Search results..
Using these filters you can refine your Search to a geater extent..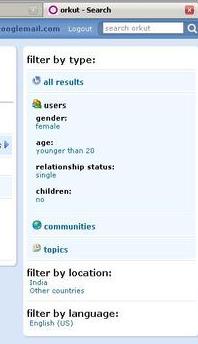 For example If you are looking for a friend in orkut…
You can first search for the name. Then you can Specify the Age,Gender etc.
See the screenshot above...
I think this is a great upgrade by orkut, which gives us a better control over "Searching".
What Do you Think ??